Memories of Peggy Winkworth (nee Benham)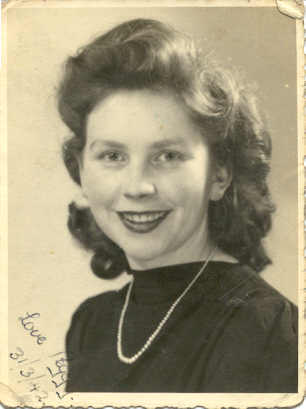 Peggy was born in 1923, in Plumpton, Sussex, the third of five sisters. She also had four brothers. Peggy had beautiful thick red hair down to her waist as a child. She was well-behaved, but on one occasion she managed to break her father's salad bowl which he had won in a cycling race. She hid the damaged bowl in the wardrobe, but unfortunately it then fell over and broke the wardrobe mirror as well. "Why does everything happen to me?" she asked.
The family moved to Potters Bar and Peggy went to school at Minchendon College, Southgate. She loved ballroom dancing and playing the violin. On leaving school she became a secretary at Welwyn Stores and she later worked at De Havilland in Hatfield, eventually becoming secretary to the Financial Director .
By this time she had met Jock, who was in digs with her sister Ruth. Peggy and Jock married in St Albans in 1952, and after a short spell in Potters Bar they bought the house in Grove Road, Harpenden, where they were to spend forty-four happy years together .
Peggy and Jock had three children: Jeremy, Kevin and Jon. They took great pride in their sons and were prepared to make do and mend so that the boys wanted for nothing. Those frugal habits stayed with them in later life. Geoff, who lived next door to them for many years, said just the other day how it used to amuse him that they would wash out their plastic bags and hang them on he line. He offered to give them some of his bags but they wouldn't have it!
Once the boys were older, Peggy got a job as a dinner lady at the nearby infants school. She used to go along with a pocket full of tissues ready for the children, she would say that the kids would tell her all sorts of things about their families, and that the parents would have a fit if they knew what she knew!
After the boys left home, and Jeremy and Kevin married and had children, Peggy and Jock took great pleasure in their grandchildren: Sarah, Andrew, David and Rachel. David, who is eight, on being asked on what he remembered of his Grandma, said "she always let Andrew and me play with the soldiers." Whatever time they woke up, the boys would go through to Grandma and Grandpa's bedroom, jump into bed with them, Grandma would get out the plastic tubs and battle would commence! Andrew recalled the lovely chocolate cakes she made and the old Morris in the garage.
Peggy and Jock went to the United States to visit Jeremy on four occasions. Peggy loved to be in America with Jeremy and Kathy and their two girls. They also liked their garden at number 56 and would sit in the summerhouse drinking their tea.
When Jock died in August 1996, Peggy had begun to suffer from PSP, a progressive disease. She moved into Bulwer Lytton residential home at Knebworth. Although in increasing discomfort, she won many friends among the staff there, who said how hard she tried to fit in there and always spoke well of the other residents.
Last year, as the disease took hold she moved into St Christopher's nursing home at Hatfield. She became very ill but showed tremendous courage and dignity coping with her condition. Eventually she could not speak. As David said, "Now she will be able to talk to Grandpa again."
If she had been able to speak, Peggy would certainly have wanted to thank her two sisters, Betty and May, for their regular visits to the homes in which she spent her last years. And in particular to Jon, who spared no effort to make life comfortable, whether it be doing her washing or just holding her hand.
Peggy was blessed to have a happy and contented life, and whilst her last few years were troubled, she is now at peace.
Kevin Winkworth - 24 June, 1999.