Foster Dogs and Puppies - 2005
In late December we received a call about a puppy about to be euthanized for no reason other than he was not wanted any more. He was malnourished and had a couple of patches of mange, but he was a cute guy who grew and grew. He loved to rough-house with our hundred pound golden retriever. Jesse went to a loving home.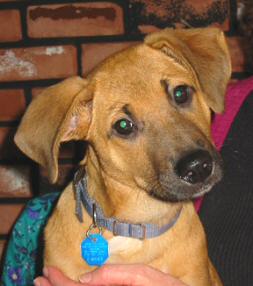 After Jesse left, it wasn't long before Biscuit arrived. Alas, her old family had to give her up because of allergies. They were very sad to see her go. She was loving and enthusiastic, a talker rather than a barker. Biscuit went off to live with Beau, one of our previous foster dogs, so we were happy that she found so a great home.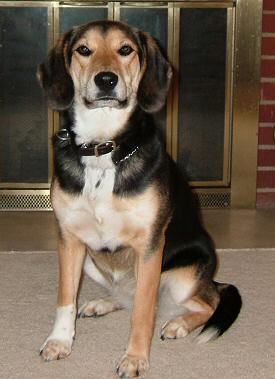 Shortly after Biscuit left, we got a call about 12 three week old puppies who's mother had just died. We ended up splitting them between 3 people, then 2 of our 4 went to another foster home. We ended up with William and Harry, two very sweet boys. William found a super home in Kalamazoo. Harry left for a great home and family in the country near Howell, Michigan.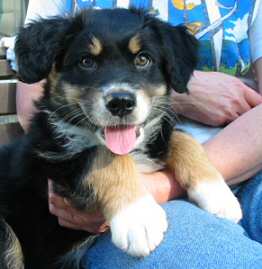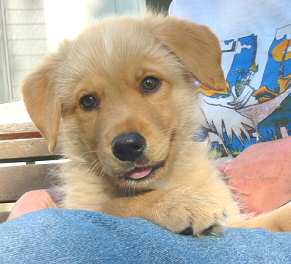 We took a break for a while but then Roo came into our lives. He was rescued from the Animal Control at South Haven, where she was not getting adopted. Roo was an extra cute puppy, fun loving, who fitted right in and gave our Retriever some good exercise. Don't you just love those ears! Roo went to the very best home in Charlotte. Click here to see a picture of Roo in Charlotte with his new playmate.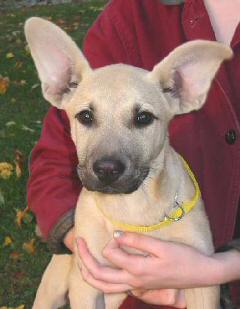 On the same day Roo left, Kathy was involved in rescuing thirteen 4 week old Aussie-mix puppies out of a bad situation. To see all the Aussie pups in the Rescue, click here. We ended up with two females. We named them Thelma and Louise. Here they are: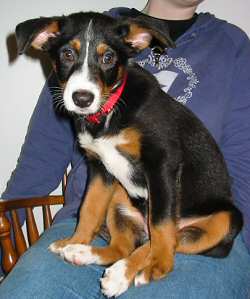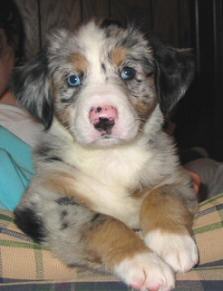 Thelma found a home with some experienced Aussie owners in Chicago. Her brother Dudley needed a foster home for a while so he stayed with us. He was the sweetest boy and gave us a lot of amusement with his antics. He went to live at another foster home after Louise had heart surgery and needed to be as quiet as possible. Louise recovered from her heart surgery and was adopted to a great family.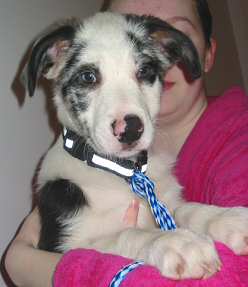 Last Edited by JMW 01/28/18